Welcome to TLC Furniture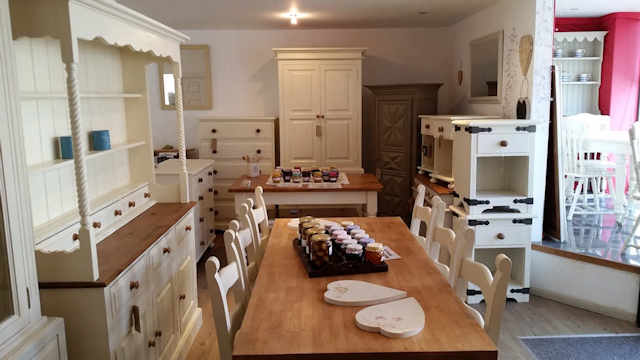 About TLC Furniture
At TLC Furniture we specialise in: Bespoke Made-to-measure Furniture, Hand Painted Furniture, Restoration, Refurbishment and Painting Services. Whether you have an existing piece of furniture in need of transformation, or require a specific piece to be made to order, TLC Furniture can fully cater to all of your requirements. TLC furniture's base in Crowborough has a fully stocked showroom with pieces available for every room of your home. All furniture at TLC is handmade and/or hand painted by master craftsmen Brian and Paul Tanner. Brian and Paul established TLC furniture in 2008, having a combined 45 years expertise in the field, and have grown the business to be one of the most respected and friendly, quality furniture businesses in the south east.
Services provided by TLC Furniture
Bespoke Made to Measure Furniture
Whether free standing or fully fitted, TLC furniture can make absolutely anything, in any size for every room of your home. Many companies offer limited bespoke services, only being able to adjust sizes to set designs etc, here at TLC we offer a completely full bespoke service with no limitations. For bespoke fitted furniture, we can arrange for a time which suits you best to measure the space available and provide advice and expertise on your requirements. To book this service, please contact us on 01892 653065 or email us.
Furniture Painting
Here at TLC furniture we can transform your old furniture and paint them in our unique and renowned quality paint finish. We have developed our own style and quality finish of painting that has been proven to last a lot longer than other hand painted finishes offered by other companies. We also offer a free local collection and delivery service for all painted items. If you have items you would like transformed, please contact us on 01892 653065 or email us.
Furniture Restoration
We also offer restoration services on furniture items. Anything is possible, whether you have a dining table with ring marks in need of refinishing, an old chair that needs gluing back together, or even an antique grandfather clock blown apart in world war two, which needs the case totally rebuilding (an actual order untaken by TLC in 2016). All woodwork can be undertaken and finished to a high quality by TLC. If you have items you would like restored, please contact us on 01892 653065 or email us.
Kitchen Refurbishment & Painting
TLC furniture offers our unique style of painting and restoration to existing fitted kitchens. Rather than purchasing a replacement kitchen, especially when your units and doors are solid but just a little tired looking, we can completely transform the entire room by painting doors, drawers, all fitted cupboards, skirting, kickboards and much more. This is one of our most popular services as it offers a huge transformation at a fraction of the price. We can easily quote for this service by arranging a time which suits you best to take a look at your existing kitchen, or alternatively pictures can be emailed to us of all areas that need painting. To get this service booked in, please call us on 01892 653065 or alternatively email us.

View the kitchens we have recently revamped below:

Fitted Wardrobes
Here at TLC furniture we offer our craft to fitted wardrobes. We are able to fit wardrobes in even the most awkward of areas, managing to utilise storage space to the fullest as each wardrobe is made specifically for the area in question. There is no limitation to size or style as these are made fully bespoke to fit the customer's room space and requirements. We can also fit cupboards and other units in all rooms of the home using the same principle and craftsmanship. For fitted furniture we can arrange to measure the area for the desired furniture and also offer advice on what is possible within the space. For this service please contact us on 01892 653065 or email us.

Please see examples of some recent fitted wardrobes below: